The underground Rome, the only proof of millennial historical stratifications, continues to give exciting discoveries to archaeologists who study it daily, and it also gives unexpected emotions to all those curious tourists who are not satisfied to only walk in the most famous streets of the City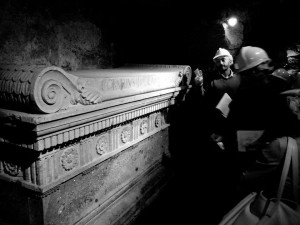 Thanks to the passionate help of our experts "archaeologists of the underground City", you will discover the ancient structures hidden from roads and modern buildings. In the course of a fascinating walking tour you will be guided into the basements of the Forum Boarium to discover the monumental remains of ancient religious buildings; you will visit the most ancient archaeological layers of the Via Lata, where you will see the early Christian transformations of the City; and finally, a few steps from the monumental Trevi Fountain, you will see the water of an historical aqueduct, dated back in the first century BC, flowing still today 9 meters below the current street level.
To live an adventure with us just book a private tour!
Please contact us for any information and for reservations: archeodomani@gmail.com