Not far from Rome we can go back in time, leaving the modern city chaos behind to get to experience the chaos of the past; the roads, the splendour of public buildings, the crowded markets, the thermals, the public latrines, along with worship places, commercial activities and the city intense political life.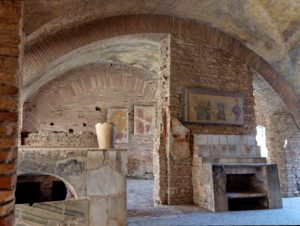 The tour follows the basoli of the ancient Decumanus Maximus and through the ancient districts of the city. The path crosses the popular area dominated by the remains of the insulae and the commercial spaces where it's possible still to see the shops and why not, maybe rest near the spectacular Thermopolium. It crosses public places such as baths, barrack, theatres, latrines, the evocative Piazzale delle Corporazioni and the monumental "institutional" architectures (the Forum, the Curie, the Basilicas). But there's more than excavations here; a hundred meters away from the archaeological site there is the castle of Julius II and the characteristic medieval village with narrow alleys and small stone houses.
Contact us to customize and book your tour.